IFTE President`s greeting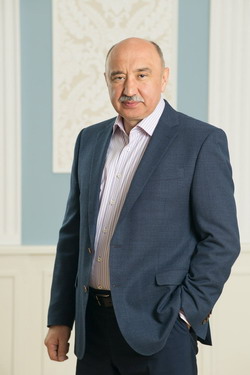 Dear participants of IFTE-2020!
I am happy to welcome you and invite you to participate in the International Forum on Teacher Education, which will be held for the sixth time on the hospitable Tatarstan land, in Kazan, within the walls of one of the oldest and most unique universities in Russia – Kazan Federal University. KFU, which recently celebrated its 215th anniversary, gave the world such luminaries of science as Nikolai Lobachevsky, Karl Klaus, Alexander Butlerov and many others. Among the main university priorities today are the training of highly qualified specialists and the transformation of KFU into one of the world centers of fundamental and applied science.
It is very important for us that the International Forum on Teacher Education is developing its potential from year to year. IFTE-2019 gathered at Kazan University more than 600 best researchers in the field of teacher education from 132 Russian and 74 foreign universities and research organizations. The range of scientific topics of the Forum has never been so wide. IFTE-2020 is a unique opportunity to discuss relevant research in the field of teacher education, exchange experience in new advancements and achievements in the field of educational technologies, and promote cooperation between Russian and foreign researchers. Also, at the Forum you will be able to further familiarize yourself with scientific projects, infrastructure and approaches in the field of teacher education in KFU, which allowed our university to take 94th place in the Times Higher Education World University Rankings by subject "Education" in 2020.
The city of Kazan has rich thousand-year history and is one of the largest economic, scientific, educational, religious, cultural and sports centers of Russia. The Kazan Kremlin is a UNESCO World Heritage Site. The city has a registered brand "Third Capital of Russia". Kazan has repeatedly hosted high-level sports international competitions. In 2017-2018, Kazan took the 3rd place among the most popular tourist cities in Russia in the Airbnb ranking. Kazan residents are proud of their hospitality, and therefore we look forward to meeting you in our bright and modern city on the sidelines of IFTE-2020 at Kazan Federal University.
IFTE President, Chairman of the Organizing Committee
I.R. Gafurov
Doctor of Economics, Professor, Academician of the Russian Academy of Education, Rector of KFU