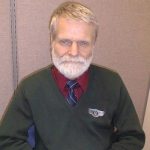 Alexander Joseph Romiszowski
Adjunct Professor, Syracuse University, the USA
Professor Romiszowski is a principal consultant at Educational and Training Systems Consulting Cooperative. He holds his Master's degree from University of Oxford and his PhD from University of Loughborough, UK. He has been a visiting professor in a number of universities in Nigeria, Kazakhstan, Brazil, Canada. His research interests focus on education, training and educational technology, and on organisational/individual performance and productivity improvement. Member of Editorial Board of the British Journal of Educational Technology, Member of the International Society for Performance Improvement (ISPI) and the Association for Educational Communications and Technology (AECT).
Latest publications:
Romiszowski, A. J. (2016). Designing instructional systems: Decision making in course planning and curriculum design. Routledge.

Romiszowski, A., & Rushby, N. (2015). Remembering the Past in Researching for the Future: Diagnosis and Treatment of Social Amnesia in the Educational Technology Community. Educational Technology, 55(5), 29- 34.
Reports