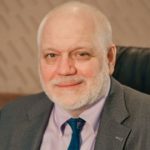 Alexey Semenov
Doctor of Physics and Mathematics, Professor, Member of the Russian Academy of Sciences
Dr. Semenov is a Laureate of the UNESCO Prize, Laureate of the Russian Federation National Award for outstanding achievements in education.
Professor Semenov graduated from the Mechanics and Mathematics Department of Moscow State University.  In 1993–2013 he was a rector of the Moscow Institute of Open Education.
In 2013–2016, he was a rector of Moscow State Pedagogical University (known also as Lenin Pedagogical University). From 2015 he is a director of Axel Berg Institute of Cybernetics and Educational Computing in Moscow.  He is a chairman of the council for state final examination (GIA) in mathematics.
Latest publications:
Polikarpov, S. A., & Semenov, A. L.  (Hamburg, 2016). Mathematics for the 21th Century School: The Russian Experience and International Prospects. In G. Kaiser (ed.), Proceedings of the 13th international Congress on Mathematical Education (pp. 675-676). Switzerland: Springer International Publishing.
Semenov, A.L., & Soprunov, S. F. (2015). A combinatorial version of the Svenonius theorem on definability. Log. J. IGPL, 23(6), 966–975.