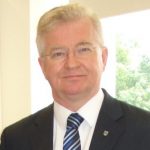 Conor Galvin
D.Sc., Professor, Lecturer and Researcher at UCD Dublin, Ireland
Professor Galvin's research interests include professional knowledge, development policy in the global south, innovation transfer in an information age, e-learning, schools ICT and the impact of new and emergent technology on learning and society. He is UCD lead on ITELab project, involving higher education institutions and industry to foster innovation and knowledge exchange in initial teacher education. Over recent years, Professor Galvin was lead evaluator on the Diageo Liberties Learning Initiative and external evaluator on the EU funded DigEuLit project. He have also acted as Assessor on a number of EU actions relating to the Information Society – including eLearning and MINERVA – and have been National Delegate (Ireland) to an OECD summit on the Information Society & Education.
Latest publications:
Galvin, C. (2015). Policy and policy making for education ICT in Ireland: some reflections on thirty years of promise, failure & lack of vision. In D. Butler, K. Marshall, M. Leahy (eds). Shaping the Future: How Technology Can Lead to Educational Transformation. Dublin, Ireland: Liffey Press.
Galvin, C. (2010). eTwinning in the Classroom – A showcase of good practice (2008-2009). Brussels: EUN Aisbl.
Reports