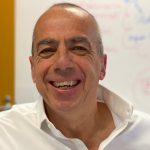 Ian Solomonides
Deputy Vice-Chancellor of the University of Victoria, Melbourne, Australia
Professor Solomonides was previously a director of the Learning and Teaching Centre at Macquarie University in Sydney and was a president of the Council of Australian Directors of Academic Developers until April 2016.
Ian is a qualified and award winning teacher, holds a PhD in engineering education and maintains research interests in higher education – especially student experience and engagement.
Latest publications:
Peters, D., Smith, K.H & Solomonides, I. (2016) Exploring the Development of Passion in Paralympic Athletes. Learning and Teaching, 8(1), 55-71.
Kuiper, A., Solomonides, I., & Hardy, L. (2015) Time on task in intensive modes of delivery. Distance Education, 36(2), 231-245.