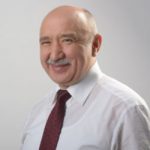 Ilshat Gafurov
Academician of the Russian Academy of education, Rector of Kazan Federal University, President of the International Forum on Teacher Education, Chairman of the IFTE Organizing Committee. Doctor of Economics, Professor
Professor Gafurov is the Distinguished Worker of Science of the Republic of Tatarstan, the Honorary Economist of the Republic of Tatarstan and the Honorary Professor of Yelabuga State Pedagogical University. Professor Gafurov has been awarded the Gold Medal For the Merit in Education by the Russian Academy of Education and the UNESCO Golden Palm Diploma. He is author of more than 70 scientific books and articles.
Latest publications:
Ismagilova, G., Safiullin, L., & Gafurov, I. (2015). Using historical heritage as a factor in tourism development. Procedia-Social and Behavioral Sciences, 188, 157-162.
Valeeva, R. A., & Gafurov, I. R. (2017). Initial teacher education in Russia: connecting theory, practice and research. European Journal of Teacher Education, 40(3), 342-360.
Reports