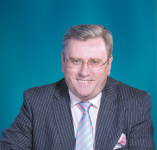 Alexey Lubkov
Professor, Doctor of Historical Science, Rector of MPGU, President of the Association for the Development Pedagogical Universities and Institutes
Professor Lubkov is Corresponding member of the Russian Academy of Education. From 1991 until 1998 he worked as Dean of the MPGU Faculty of History and the first MPGU Vice-Rector. In 1998 he became Professor of the Modern History Department and remained in this position until 2006.
In 2013 Alexey Lubkov worked at MPGU as Vice-Rector and Archive and Museum curator. In 2016 he became Assistant Director of the Higher Education State Policy Department in the Ministry of Education and Science of Russian Federation.
Since 2017 Professor Lubkov is Rector of MPGU.
Latest publications:
Lubkov, A. (2020). Modern problems of pedagogical education. The Education and Science Journal, 3 (22), 36–54.
Lubkov, A., & Morozova, O. (2019). Pedagogical Education in Russia: Current State, Experience, Outlook, Problems. ARPHA Proceedings, 1, 423.
Lubkov, A. V., Gordienko, O. V., & Sokolova, A. A. (2020). A Humanitarian Approach to the Digitization of Education. Education and Self-development, 15(3), 89-96.