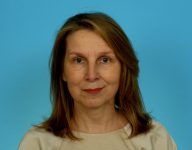 Andreja Istenic 
Professor, University of Primorska and University of Ljubljana, Slovenia
Professor Istenic  is an Honorary Fellow at Macquarie University (Australia) and Visiting Professor at Federal Kazan University (Russia). Her research interests and teaching expertise are in the areas of teacher education, educational technology, learning environments, contemporary learning theories, ICT-assisted learning for people with special needs, media education, higher education, young researchers and research evaluation. She is in the International Advisory Board of British Journal of Educational technology (BJET). A member of the following Editorial Boards: The Turkish Online Journal of Education Technology (TOJET), International journal: emerging technologies in learning (iJET).
Lecture: Teacher's ethical and social responsibility facing challenges of artificial intelligence, learning analytics supporting equity in education
Latest publications:
Lebeničnik, M., & Istenič Starčič, A. (2020). Examining the contemporary digital divide of university students with specific reference to students with special educational needs. British Journal of Educational Technology, 51(6), 2422-2441.
Huang, Y. C., Huang, Y. M., & Starcic, A. I. (2020, November). Enhancing Students' Learning Outcomes of a STEAM Permutations Course Through a Game Based Visual Programming Environment with Qualifying Rank Strategy. In T.C. Huang, T.T. Wu, J. Barroso, F.E. Sandnes, P. Martins, Y.M. Huang (Eds.), International Conference on Innovative Technologies and Learning (pp. 93-99). Springer, Cham.
Starčič, A. I., & Lebeničnik, M. (2020). Investigation of University Students' Perceptions of their Educators as Role Models and Designers of Digitalized Curricula. Human Technology, 16(1), 55-91.