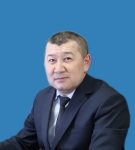 Bayram Otemuratov
Rector of the Azhiniyaz Nukus State Pedagogical Institute, Doctor of Physical and Mathematical Sciences, Professor (Uzbekistan)
He is the High Council's member of the Republic of Karakalpakstan since 2020, a member of the Social Affairs Committee of the High Council of the Republic of Karakalpakstan and the Liberal Democratic Party's member of Uzbekistan.
Bayram Otemuratov started his scientific career in the Mathematics Department of Berdakh State University. His works deal with problems of mathematical, complex analysis. In particular, he achieved significant results on holomorphic extensions of integrable functions and their applications.
He is the author of several textbooks and teaching aids, and has his own mathematicians' scientific school.
The title of a keynote report: The specifics of the competitiveness of a pedagogical institute on a regional scale