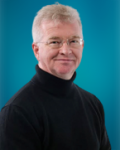 Conor Galvin
D.Sc., Professor, Lecturer and Researcher at University College Dublin, Ireland
Professor Galvin directs the Doctorate in Education (PhD Education) programme at University College Dublin School of Education where he also lectures on various education, ICT, public policy and research methods programmes.
Professor Galvin's research interests include policy, professional knowledge, and the impact of new and emergent technology on learning and society. He has been National Delegate (Ireland) to UNESCO Conferences and an OECD summit on the Information Society & Education. He speaks widely on research and policy issues as conference keynote or panellist – most recently as keynote to the Launch Event of the new, Jean Monnet Action on Teacher Education & Training; 15 April 2021.
He is UCD lead on ITELab project, involving higher education institutions and industry to foster innovation and knowledge exchange in initial teacher education. Over recent years, Professor Galvin was lead evaluator on the Diageo Liberties Learning Initiative and external evaluator on the EU funded DigEuLit project. He have also acted as Assessor on a number of EU actions relating to the Information Society – including eLearning and MINERVA – and have been National Delegate (Ireland) to an OECD summit on the Information Society & Education.
Lecture: Reframing Teacher Education in the post-COVID Moment: shifting crisis response towards sustainable transformation
Latest publications:
· Clarke, L., Galvin, C., Campbell, M., Cowan, P., Hall, K., Magennis, G., O'Doherty, T., Purdy, N., & Abbott, L. (2020). Assessing the value of SCOTENS as a cross-border professional learning network in Ireland using the Wenger–Trayner value-creation framework. Oxford Review of Education, 1-17.
· Galvin, C., Austin, R., Revyakina, E., & McMorrough, A. (2020). Building Cultural Awareness and Understanding in Europe's Schools. In W. J. Hunter, R. Austin (Eds.), Blended and Online Learning for Global Citizenship: New Technologies and Opportunities for Intercultural Education (pp. 92-121). Routledge.
· Revyakina, E., & Galvin, C. (2018). Values, Imaginaries and Policy-Making for teacher Education: insights from researching the Russian Federation context of reform, 2000-17. Education and Self-Development, 13(3), 25-39.