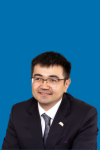 Darkhan Bilyalov
PhD, Chairman of the Board — Rector of Abai Kazakh National Pedagogical University
Darkhan Nurlanovich Bilyalov – Doctor PhD. Graduated from L.N. Gumilyov Eurasian National University, Northwestern University, Pennsylvania State University, USA. Fellow of the faculty development program of Nazarbayev University «Talap» and the presidential program «Bolashak».
Dr. Bilyalov studied various aspects of domestic and international education and participated in scientific and other projects since 2004. He worked in such organizations as the World Bank, the United Nations Development Program, the Center for Biotechnology of the Ministry of Education and Science of the Republic of Kazakhstan, as well as in two American universities: Northwestern University and Pennsylvania State University. Over the past 10 years, he has held administrative positions and taught at Nazarbayev University. Since June 2021, the Chairman of the Board-rector of the Abai KazNPU NJSC.
Research interests:
– Management of higher education;
– Faculty (mobility, international level, productivity, satisfaction);
– Internationalization;
– World-class universities;
– Organizational changes in higher education.
Lecture: Modernizing teacher education to meet the growing demands of the Kazakhstani school education
Latest publications:
Schneijderberg C., Götze N., Jones G., Bilyalov D., Panova A., Karram Stephenson G., Yudkevich M. (2021). Does vertical university stratification foster or hinder academics' societal engagement? Findings from Canada, Germany, Kazakhstan, and Russia. Higher Education Policy.
Bilyalov D. & Hartley M. (under review, post R&R). The Evolving Work of Boards of Trustees in Kazakhstan: Learning to Govern in an Autonomous System. Tertiary Education and Management.
Fillipova L., Bilyalov D. (2020). The Relationship Between Emotional Intelligence and Academic Achievement Among Undergraduate Students in Kazakhstan. The Bulletin of the National Academy of Sciences of the Republic of Kazakhstan, 265-273.