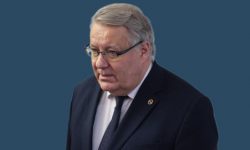 Dmitry Tayursky
First Vice-Rector-Rector for Research of Kazan (Volga region) Federal University, Doctor of Physical and Mathematical Sciences, Professor (Russia)
Research interests: low-temperature physics, physics of magnetic phenomena, physics of complex systems, quantum fluids, computer-aided materials design, new engineering education, creativity in education.
He is an author of more than 140 academic papers in Scopus and Web of Science, h-index – 12. Dmitry Tayursky with his students built the first in the world non-extensive quantum fluid dynamics model in nanoporous medium. He created the new research area of computer-aided materials design at Kazan Federal University. He is actively involved in the problems of physics and mathematics of complex systems, research in "new engineering education".
Honoured Scientist of the Republic of Tatarstan. Full member of Institute of Physics (IOP), UK. Visiting Professor and Advisor to President of Kanazawa University (Japan). Member of Organizing Committee of the International Olympiad for undergraduate and graduate students of the Global Universities Association.
The title of a keynote report: The Social Mission of the Modern University: the Experience of KFU
Latest publications:
Cherosov M., Batulin R., Kiiamov A., Rogov A., Vakhitov I., Gabadullin D., Tayurskii D., Yusupov R. Interrelation between the Solid-State Synthesis Conditions and Magnetic Properties of the NiCr2O4 Spinel//Magnetochemistry. – 2023. – Vol.9, Is.1. – Art. №13.
Kaviani S., Tayurskii D.A., Nedopekin O.V, DFT-based modeling of polypyrole/B12N12 nanocomposite for the photocatalytic applications//Journal of Physics and Chemistry of Solids. – 2022. – Vol.170, Is.. – Art. №110949.
Alain Le MÉHAUTÉ Quid of the status of the time for creative management? A theoretical approach through zeta Riemann function// Alain Le MÉHAUTÉ, Philippe RIOT, Alina GAVRILUT, Dmitriii TAYURSKII// Hyperion International Journal of Econophysics & New Economy. – 2022. – v.17. – N. 1. – P. 7-48.