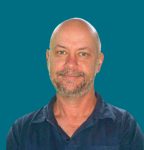 John Schulz
Doctor, Director of the SEds Video & Digital Media Studio, Principal Teaching Fellow, University of Southampton
Professor Schulz's studio was established in 2010 to allow explore the use of digital video technology in education settings. Today it is a well-equipped studio, complete with lighting, 4K cameras and professional video editing facilities, producing learning resources for the school and faculty.
Professor Schulz teaches on a wide variety of MSc and Doctoral programmes within the school, in the areas of eLearning, Education Management and Research Methods. He is currently developing an online Masters programme for the school. His research approach stems from his interest in social psychology particularly social cognition – the role that cognitive processes play understanding the social world.
Lecture: Video in Education: From 'Sage on the Stage' to 'TV Talk Show Host.' Where to Next?
Latest publications:
Iskru, V., & Schulz, J. (2020). How postgraduate students use video to help them learn. Contemporary Education Technology, 12(2), 1-8. [ep276]. https://doi.org/10.30935/cedtech/8400
O'Riordan, T., Millard, D., & Schulz, J. (2020). Is critical thinking happening? Testing content analysis schemes applied to MOOC discussion forums. Computer Applications in Engineering Education. https://doi.org/10.1002/cae.22314