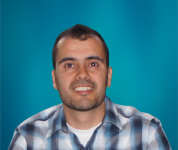 Juan Jose Mena Marcos
Associate Professor, University of Salamanca, Spain
Juanjo Mena is an associate professor and head of the Department of Education at the University of Salamanca (USAL, Spain). He completed his Master degree (with honors) in the Department of Developmental & Educational Psychology in 2004. He obtained his PhD with distinction and special mention of "European Doctor" in 2007. Now he is Treasurer and National Representative of the ISATT. His research focuses on Teaching Practice, Teacher Education, Mentoring, Teacher Development and ICT. He has been a visiting scholar in a number of universities in The Netherlands, Canada, Australia, USA, Finland or Mexico. He also spent 5 years as a classroom teacher before joining USAL as full-time professor. At the moment he is a research collaborator at the Kazan Federal University (Russia) and affiliate professor at the University of British Columbia (Canada).
Lecture: Online teaching and the use of innovative methodologies
Latest publications:
Rincón-Flores, E. G., Mena, J., & Montoya, M. S. R. (2020). Gamification: a new key for enhancing engagement in MOOCs on energy?. International Journal on Interactive Design and Manufacturing, 14(4), 1379-1393.
Cutri, R. M., Mena, J., & Whiting, E. F. (2020). Faculty readiness for online crisis teaching: transitioning to online teaching during the COVID-19 pandemic. European Journal of Teacher Education, 43(4), 523-541.
Cutri, R. M., & Mena, J. (2020). A critical reconceptualization of faculty readiness for online teaching. Distance Education, 41(3), 361-380.
Mena, J., Faikhamta, C., & Clarke, A. (2020). Mentors' approach to practicum mentoring in the Spanish and Thai contexts: a two-cohort comparison using the Mentoring Profile Inventory. International Journal of Mentoring and Coaching in Education, 9(2), 169-185.
Clarke, A., & Mena, J. (2020). An international comparative study of practicum mentors: Learning about ourselves by learning about others. Teaching and Teacher Education, 90, 1-14.