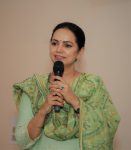 Manpreet Kaur Bagga
Principal of Partap College of Education (Ludhiana, India)
Dr. Manpreet Kaur is working as Professor in Education and Principal at Partap College of Education Ludhiana, Punjab, India. She is Ph. D. in Education and has 19 years of teaching experience to teach graduate, post graduate classes and providing research guidance. She has contributed extensively to the teacher education literature with publications in various International and National Journals and presented papers and key note addresses in International and National conferences.
She is an active member of National and International academic bodies and engages in professional development and research activities. She is secretary, International Professional Development Association (IPDA), India and elected as Executive Committee Member, IPDA, UK. She is also a member of International Study Association of Teachers and Teaching (ISATT), Global Educational Research Association (GERA), All India Educational Research Association (AIERA) and Council for Teacher Education (CTE) India.
She is working as Associate editor of Journal Frontier in Education, Frontier in Psychology and review editor of Journal of Public affair, Practice: Contemporary Issues in Practitioner Education, and Journal of Information Technology Research. Her areas of research interest are well- being, teacher identity, professional development and women leadership.
The title of a keynote report: Being, Becoming, and Belonging: Professional Identity of Teacher Educators