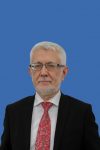 Mikhail Gruzdev
Doctor of Pedagogical Sciences, Rector, K.D. Ushinsky Yaroslavl State Pedagogical University (Russia)
Mikhail Gruzdev, Rector of Yaroslavl State Pedagogical University, Doctor of Pedagogical Sciences, Professor. From 1991 to 1999, he was the initiator and director of one of the country's first innovative schools, Provincial College. From 1999 to 2016, he was First Deputy Director and Director of the Department of Education of the Yaroslavl Region. Since 2016 – Rector of the Ushinsky Yaroslavl State Pedagogical University.
Research interests: education policy, development of human resources potential in education, new didactics of school and teacher education.
The title of a keynote report: Rebooting the continuing teacher education system: Updating educational outcomes, formation mechanisms, assessment tools
Latest publications:
Груздев, М.В. Становление «новой дидактики» педагогического образования в условиях глобального технологического обновления и цифровизации / М.В. Груздев, И.Ю. Тарханова // Ярославский педагогический вестник. 2019. №3 (108). С.47-53 (Перечень ВАК РФ)
Груздев, М.В., Розов, Н.Х., Тарханова, И.Ю. Ценностные и методологические аспекты развития системы непрерывного педагогического образования // Педагогическое образование в современной России: стратегические ориентиры развития: монография / Южный федеральный университет; научный редактор Ю. П. Зинченко. – Ростов-на-Дону; Таганрог: Издательство Южного федерального университета, 2020. С.62-72.
Gruzdev, M.V., Ivanova, E.O., Tarkhanova, I.Yu., Kharisova, I.G. (2022). Continuous pedagogical education: value orientations of entry into profession. Perspektivy nauki i obrazovania – Perspectives of Science and Education, 55 (1), 25-41. doi: 10/32744/pse.2022.1.2 (SCOPUS, Перечень ВАК РФ)
Груздев, М.В. Непрерывное педагогическое образование: методология, теория, практика: монография / М.В. Груздев – Ярославль: ЯГПУ, 2023. – 250 с.