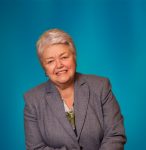 Natalia Selivanova
Academician of Russian Academy of Education, Chief Researcher of the Institute for Education Strategy of the Russian Academy of Education, Doctor of Pedagogical Sciences, Professor (Russia)
Natalia Leonidovna Selivanova has been dealing with problems of theory and practice of education for almost 50 years.
The focus of her research always had questions about the preparation of future teachers. The book "Education … Education? Education!", сo-authored with L.I. Novikova and V.A. Karakovskiy was awarded the Prize of the President of the Russian Federation in the field of education in 1997.
About fifteen years Natalia Selivanova heads the scientific school "A systematic approach to the upbringing and socialization of children and youth", continuing the work of its creator, academician L.I. Novikova. This school is known not only in Russia, but also abroad.
She is a Full Member of the Russian Academy of Education. Natalia Selivanova is a member of the editorial boards of many pedagogical journals. She is an expert in four Russian funds, including those under the patronage of the President of the Russian Federation.
Lecture: Education as a State Priority: Ways to Implement, Resources for Development, and Theoretical Misconceptions
Recent publications
Селиванова Н. Л. и др. ИЗУЧЕНИЕ ПРЕДСТАВЛЕНИЙ ПЕДАГОГА О ЦИФРОВОЙ СРЕДЕ ШКОЛЬНИКА //Диалог культур. Культура диалога: цифровые коммуникации. – 2022. – С. 237-243.

Селиванова Н. Л. и др. ТЕОРЕТИЧЕСКИЕ И МЕТОДИЧЕСКИЕ ОСНОВЫ ОРГАНИЗАЦИИ И ОСУЩЕСТВЛЕНИЯ ВОСПИТАТЕЛЬНОЙ РАБОТЫ В ОБРАЗОВАТЕЛЬНЫХ ОРГАНИЗАЦИЯХ ВЫСШЕГО ОБРАЗОВАНИЯ // СИБИРСКИЙ ПЕДАГОГИЧЕСКИЙ ЖУРНАЛ. – 2022. – C. 7-21