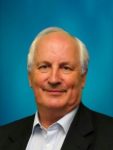 Nick Rushby
Deputy Editor of Education and Self-Development Journal, Kazan Federal University
Nick Rushby is a visiting professor at the Institute of Education and Psychology at Kazan (Volga Region) Federal University.  Nick Rushby has worked in learning technology for 50 years. During his career he has coordinated projects for the National Development Programme in Computer Assisted Learning, directed an international information centre for the use of computers in education and training, and led multimedia training activities for PA Consulting Group. He has worked with a wide variety of clients in most business sectors and at all levels of their organisations including consulting at board level. Nick Rushby is the author and editor of a number of books and papers on CBL and CBT. A former editor of the British Journal of Education Technology, and now the Deputy Editor of Education & Self Development, his current work focuses on supporting early career researchers.
Lecture: International perspectives in scholarly publishing
Latest publications:
Rushby, N. (2020). Editorial: Open reviewing. Education and Self-Development, 15(1), 6-8.
Rushby, N. (2020). Editorial: Time to publication. Education and Self-Development, 15(4), 6.