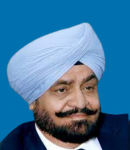 Balwant Singh
Director of Partap College of Education, Ludhiana, India
Dr. Balwant Singh, Principal, Partap College of Education, has been awarded the title of Fellow of the International Professional Development Association at University of Stirling, Stirling, Scotland, UK. In 2016 he was bestowed upon the esteemed title of Fellow of IPDA –  International Professional Development Association. Balwant Singh is a member of the Board of Studies and Academic Council, Panjab University Chandigarh and a Member of the Indian Institute of Public Administration, government of India, New Delhi. He is also the member of visiting team of NCTE and has inspected more than 120 Educational Institutions in the Country.
Lecture: Quality of life and wellbeing of teachers
The lecture is accessible at the link.