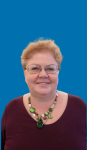 Elena Kazakova
Doctor of Education, Director of the Institute of Education, Saint Petersburg State University, Corrersponidng member of the Russian Academy of Education
Elena Ivanovna Kazakova, Director of the Institute of Pedagogy at St. Petersburg State University, has published more than 100 research papers in pedagogy. Since 2016 Elena Kazakovahas been a corresponding member of the Russian Academy of Education. 
Elena Kazakova is the head of the Intercultural Education and Educational Management programs; she is the scientific supervisor of the Rosnano School League project. She is also the supervisor of the Education Management as a Resource for Innovative Development training program.
Latest publications:
Kharisova I. G., Makeeva T. V., Kazakova E. I., Tarkhanova I. Y. Identifying a value-based framework of teaching from the point of view of modern socio-professional teachers' community. Science for Education Today, 2021, vol. 11, no. 5, pp. 7–25. DOI: http://dx.doi.org/10.15293/2658-6762.2105.01
A. A. Azbel, L. S. Ilyushin and E. I. Kazakova, "Using computer data processing in schoolchildren's cross-cultural collaborative research," 2020 IEEE Frontiers in Education Conference (FIE), 2020, pp. 1-6, doi: 10.1109/FIE44824.2020.9273969.